Pinhedz Premium Complete Kit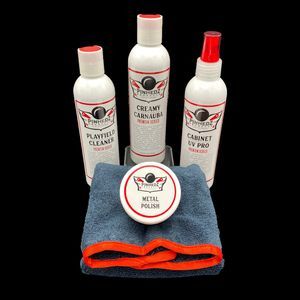 Pinhedz Premium Complete Kit
Premium Series Complete Kit – Includes 1 of each, Creamy Carnauba, Playfield Cleaner, Cabinet UV Protector, Metal polish, and one Premium Microfiber
Premium products specifically designed for the high end collector who wants to provide maximum protection and visual brilliance to their collection. Pinhedz provides only the highest quality products which are trusted on even the highest quality restores.
Pinhedz Creamy Carnauba – Quality Carnauba wax is proven the best protectant for preventing premature wear on your pinball machine playfield due to the rolling ball. It provides the best layer of protection available and when used regualarily can extend the life of the games playfield  significantly.  Also works well on silk screened cabinets to provide protection from UV.
Pinhedz Playfield Cleaner – Possibly the best cleaning option out there! Solvent based and made specifically for pinball machines. Will remove ball trails and swirl scratches and bring clear coat to a shine better than new. (Competitive knowledge, This is not a water based headlight cleaner, but designed and manufacturered with playfields in mind.)
Pinhedz Cabinet UV Protector – Specifically designed for printed vinyl and can be used for new and restored pinball machines and arcade games to clean and protect them from damaging uv rays. The downfall of many older games is the extreme fade over time. Pinhedz UV Pro will help prevent premature fading on printed graphics. Removes dirt, dust, and fingerprints and has added UV Blockers to preevent premature aging and wear. Extended the life of printed graphics.
Pinhedz Metal Polish – Just a good quality polish designed to help keep your ramps and other metal parts keep a nice shine.
Premium Microfiber- Premium ultra-soft silk edged microfiber towels. Lint free and scratch free designed for buffing and wiping down your pinball machine without risk of damage. Luxurious silk banding to help prevent any scratching. Super soft and absorbent and will no tcause scratches when used properly. Two plush heights, one side is for scrubbing while the other side is buffing to a shine.