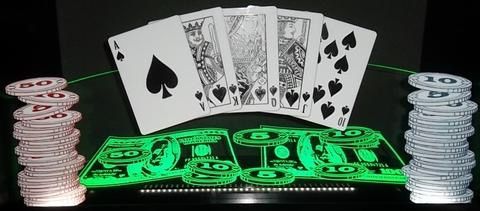 WORLD POKER TOUR TOPPER
This topper is 24" W x 9" H and features RGB multi-color LED lit laser etched back panel mounted in a lightweight black powder coated aluminum stand.  The design highlights vibrant acrylic and hand painted details on royal flush hand and poker chips. Remote controlled mini-controller mounted on back allows for changeable lighting effects. 
All Pinball Toppers are made per order, due to the complexity of certain designs shipping may be up to 2 weeks from date of placed order.