The Big Lebowski Pinball / TBL DEPOSIT ONLY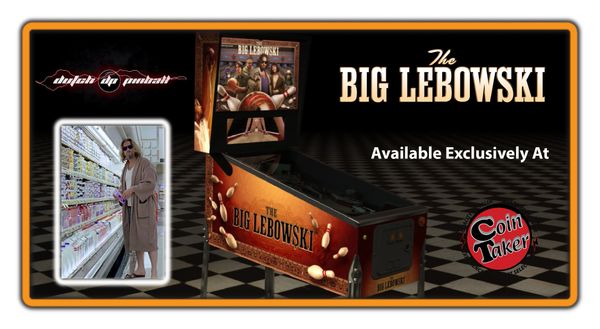 The Big Lebowski Pinball / TBL DEPOSIT ONLY
NOW TAKING DEPOSITS FOR THIS GAME.  TOTAL PRICE IS $13000.00, PRICE INCREASE AS OF 10/11/2021. 
ALL ORDERS PLACED PRIOR TO THE 10/11/21 ARE HELD AT THE 12500.00 PRICE.
$1000.00 DUE NOW AND $12000.00 BALANCE OF GAME DUE 30 DAYS PRIOR TO SHIPPING
Ship time is 10-11 months out until we clear up the existing orders.
The deluxe laser cut lit apron is available for 599.95, factory installed.

THESE GAMES ARE NOT THE EARLY ACHIEVERS EDITIONS.  THEY WILL NOT COME

WITH A PLAQUE OR A SERIAL NUMBER.
NOTE****  INTERNATIONAL SHIPMENTS WILL HAVE TO BE CALCULATED OUT FOR FREIGHT CHARGE.

ALL WARRANTY IS THROUGH THE MANUFACTURER:  GAME SALES ARE FINAL.
WE WILL ASSIST WITH WARRANTY AND REPAIR THROUGH THE MANUFACTURER.
WARRANTY IS NON TRANSFERRABLE AND ONLY GOOD FOR ORIGINAL PURCHASER.