The Big Lebowski Pinball / TBL DEPOSIT ONLY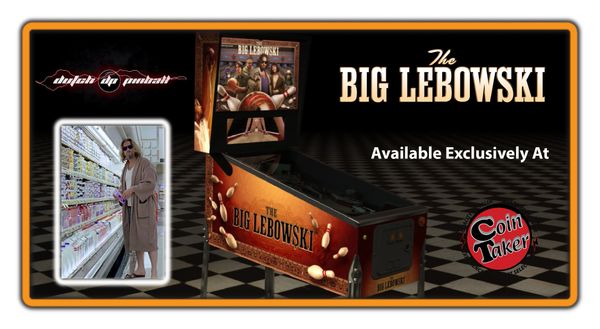 The Big Lebowski Pinball / TBL DEPOSIT ONLY
The rug is included, as it will really tie your Game Room together.
13,500 is the total price to USA customers, delivered. Expect approximately 12 month wait from your deposit date. Approximately 4 months before your Lebowski arrives you will receive an invoice for the balance. At this point your game is  being finished and packed for shipping from the Netherlands.
Your game will arrive at the CoinTaker warehouse in Sunbury, Pa and shipped to your address via truck. When your game is picked up for final delivery you will receive an email with your tracking number.
As of 10/11/22 there was a 500 dollar price increase to 13,500.  Pricing on previous orders will be honored.
The factory is offering a beautiful high end laser cut apron. This is back lit and has programmed light show with the game and can be installed at the factory for 595.95

THESE GAMES ARE NOT THE EARLY ACHIEVERS EDITIONS.  THEY WILL NOT COME

WITH A PLAQUE OR A SERIAL NUMBER.
NOTE****  INTERNATIONAL SHIPMENTS WILL HAVE TO BE CALCULATED OUT FOR FREIGHT CHARGE.

ALL WARRANTY IS THROUGH THE MANUFACTURER (1 year, non ware items).  GAME SALES ARE FINAL.
WE WILL ASSIST WITH WARRANTY AND REPAIR THROUGH THE MANUFACTURER.
WARRANTY IS NON TRANSFERRABLE AND ONLY GOOD FOR ORIGINAL PURCHASER.