QUEEN RHAPSODY EDITION - FREE SHIPPING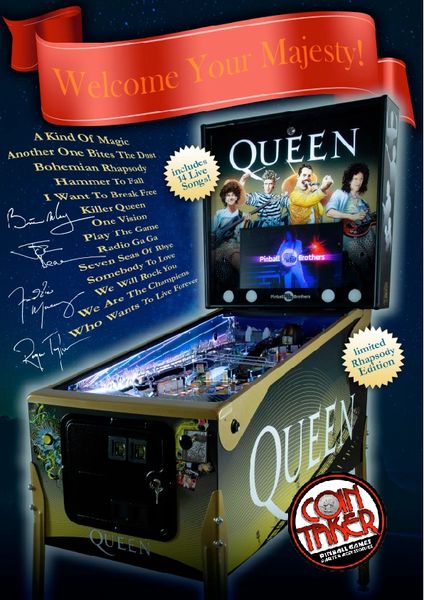 QUEEN RHAPSODY EDITION - FREE SHIPPING
QUEEN RHAPSODY EDITION 
IN STOCK AND READY TO SHIP...FREE SHIPPING.
QUEEN

 

AND

 

PINBALL

 

BROTHERS

 

ANNOUNCES

 

NEW

 

PINBALL

 

MACHINE: QUEEN - LIVE IN CONCERT!
With over 300 million albums sold worldwide, the iconic British rock band Queen are one of the biggest bands ever. Formed in London in 1971, Queen have released 15 studio albums, toured extensively, and produced innovative film, video and theatre shows for over 5 decades and they continue to pull in the crowds around the world.
The time has now come to honour this legendary band with a pinball machine based on their truly spell- binding songs – all played LIVE!
The game will be available in two different editions: Champions Edition and Rhapsody Edition. Rhapsody Edition is limited to a run of 1,000 numbered games and comes with a certificate of authenticity.
The limited Rhapsody Edition will come with a number of unique add-ons and the two editions will be different in appearance.
We have worked closely with the band to ensure their approval and it features the following live songs: A Kind OfMagic, Another One Bites The Dust, Bohemian Rhapsody, Hammer To Fall, I Want To Break Free, Killer Queen, OneVision, Play The Game, Radio Ga Ga, Seven Seas Of Rhye, Somebody To Love, We Will Rock You, We Are The Champions and Who Wants To Live Forever.
Game 

Features
The game features 14 live songs accompanied by call outs by the band, exclusively recorded for the game. Featured also is Brian May's legendary Red Special guitar, in the shape of an upper playfield where you can lock balls to start the Red Special multiball. Or you can visit the epic Wembley Stadium to lock balls
to start yet another of the game's many multiballs.
Keep an eye on the Radio – it might help you time your flips! Collect autographs, instruments, band mem- bers, tour passes and posters on your way to eventually reaching the final wizard mode »I Want it All!«
The game is presented with a breath-taking full RGB light show and a HiFidelity sound system, including an 8" bass speaker. It is hard to imagine a better way of experiencing Queen live, whether it be at the club or in your own living room. It is truly immersive!
Pricing

 

and

 

Availability
Champions Edition (Orange artwork)                            9,295 USD*
Rhapsody Limited Edition (Golden artwork)                 10,995 USD*
*Manufacturer's Suggested Retail Price (»MSRP«)
The Rhapsody Edition is limited to 1000 units and will be available through our global distributors. The Champions Edition will become available in Q1 2023.
Pre-order

 

through

 

your

 

local

 

distributor

 

today!
About Pinball Brothers
Our headquarters are based in Örebro, Sweden, but our dynamic and modern organisation spans the Europeancontinent. Our games are designed by specialists in many cities across the globe and assembled in Northern Italy, just outside Bergamo, Milan. This multitude of nationalities, working together, gives a unique mix of talent and passion that funnels into all our development projects.
We invent, design, and assemble our pinball games in close contact with the gaming community, always withthe customer in mind. Our games are based on legendary, timeless themes ensuring for a truly epic experience for all players.
Youtube FB Twitter Header Teasers from 10h CET to 14h CET
Instagram Story Teasers (all pics without the machine)
Queen Launch Social Media – 

Reveal
Instagram Post Reveals (pix with machine to follow) – after 16h CET
Youtube FB Twitter Header Reveals – after 16h CET
Instagram Story Reveals – after 16h CET
Queen Launch Social 

Media
Queen Landingpages on PB Website launching at 16h CET
Landingpage Rhapsody Edition                                      Landingpage Champions Edition
Queen Social 

Media
Detail Pictures Posting Insta/FB Thu July 21 17h CET
Video with small audio snippets (mp4)
Queen

 

Newsletter

 

to all

 

subscribers

 

17h 

CET
PB Newsletter
Social Media 

Posts
Social Media Posts
+Text from Press Release
+picture slideshow