PinGulp Beverage Caddy Premium-High Gloss Black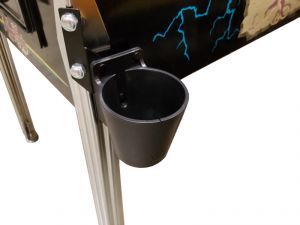 PinGulp Beverage Caddy Premium-High Gloss Black
This premium version of the classic PinGulp Pro beverage caddy includes the ability for it to be removed from your machine in just a couple of seconds using no tools (see video below), making access between two games easy and pain free! 
PinGulp Premium beverage caddy features:
3 second removal system
New sleek design
Removable mug handle insert piece
Improved condensation drainage system (keeps small screws and tools from falling through
This unique cup holder mounts to your pinball machine using its own leg bolts.  The metal bracket bends the beverage caddy around the corner to the side of the machine where it cannot be bumped, yet is easily accessible to the user.

The PinGulp Beverage Caddy Premium is completely suspended by its own mounting bracket and does not touch your cabinet, and it can be installed even when your games are lined up "head-by-head."