No Good Gofers: Battle For The Green Full Kit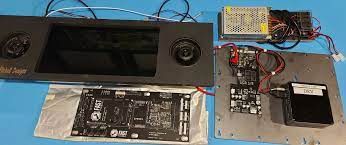 No Good Gofers: Battle For The Green Full Kit
Includes everything you need to install No Good Gofers: Battle For The Green into a No Good Gofers Pinball machine.  
Speaker panel with (2) 4" speakers, a industrial 15.6 inch monitor, and associated cabling. 
FAST Interface controller board (to be installed in the removed CPU location).
CPU panel that includes CPU, FAST audio and accessory controller, and associated cabling (to be installed in the removed audio/video board location).
Power Supply with fuse block and associated cabling.
Full set of apron instruction cards.
Note: Interface controller offers ability to add expansion components such as shaker motors, RGB lighting kits, and the "Gofer Motion" Topper .
One final note, this kit is for the USA only as it plugs into the service outlet and is designed for use on 120v systems. If you are outside of USA, then please do not order this kit. We will soon have an international kit for people who use other voltages.