LED ZEPPELIN Stern PRO PINBALL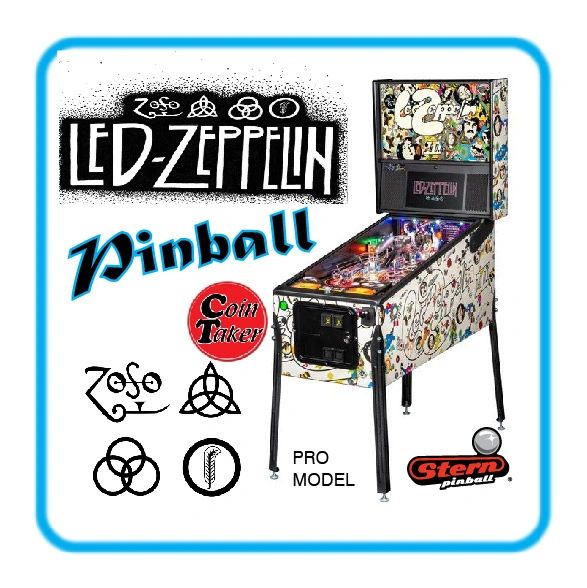 LED ZEPPELIN Stern PRO PINBALL
Led Zeppelin Pinball -IN STOCK

 

Led Zeppelin was an English rock band formed in London in 1968. They are considered one of the best-selling music artists of all time. To-date, there have been only 7

 

artists

 

that have sold over 250 million albums and Led Zeppelin is one of them. They were inducted into the Rock and Roll Hall of Fame in 1995.

The Premium and LE model will debut Stern Pinball's Expression Lighting System™ which has 96 intelligent RGB LEDs that enables full color spectrum control. These lights are positioned in pockets cut into the cabinet interior to provide a full playfield illumination while also appearing beautifully flush with the cabinet walls.

 

Each of the 10 songs are programed different to sync with the

 

Expression Lighting System™

, so it's a different experience with every ball!

The Premium and LE model will also debut a brand new mech never introduced to a pinball machine called the Electric Magic™ Toy. This device raises from beneath the playfield to reveal a pass-through chamber with an optical spinner. There are rubber posts on both sides of the chamber and to go through

 

cleanly

 

up the middle

 

is very satisfying

 

and very addicting. Hitting that shot multiple times continues to charge the optical spinner, and once fully charged th

e insert with lights and the

 

magnet under the device will activate

 

to

catch and hold the ball lowering it beneath the stage (playfield) for Electric Magic Multi-ball.

Further down in the email I will share the differences between the Pro and the Premium/LE playfield.

There will be a live stream of the gameplay of the Premium/LE model on Friday, December 18

th

 

at 6:00 PM CST on Stern Pinball's Facebook Live.

Designer

- Steve Ritchie. Steve Ritchie is the 'King' of Pinball, designer of Black Knight, Star Wars, AC/DC, Game of Thrones, Star Trek, Spiderman and dozens more

 

from the earlier days.

 

 

Code

- Tim Sexton is lead on software and game rules.

Art

- Stephen Jensen is the artist for all 3 models. He owns the Authentic Rock N' Roll Clothing store called Wornstar.
MELISSA 570-847-9595
CHRIS - 570-847-6366
FREE SHIPPING FOR USA CUSTOMERS.