Houdini Pinball - DEPOSIT ONLY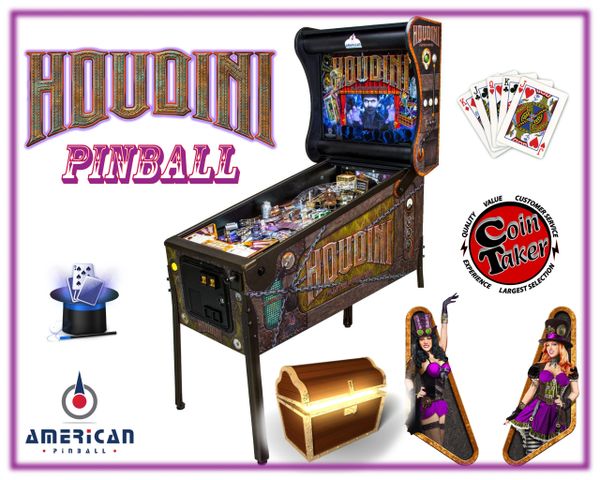 Houdini Pinball - DEPOSIT ONLY
BALANCE DUE IS 6295.00 PLUS SHIPPING FOR STANDARD -
BALANCE DUE FOR DELUXE IS 6995.00 PLUS SHIPPING.
For latest pricing / special offers please call
Melissa 570-847-9595
American Pinball has its first title shipping. Houdini is an incredible game with tons of cool and unique stuff. Huge amounts of attention to detail!
DELUXE VERSION NOW INCLUDES SHAKER, INTERIOR SIDE ART, TOPPER KNOCKER, MAGIC GLASS, AND STEAMPUNK FLIPPERS
20" Ball launch into a trunk!
Custom Padlock & Chain pop bumpers!
3 Magnets!
Magic Stage!
RGB LED Inserts!
6 Speaker Stereo Sound!
Custom Cabinet Armor!
Custom Theater Spotlights!
Factory Mylar!
And Much more.......