Guns & Roses Limited Edition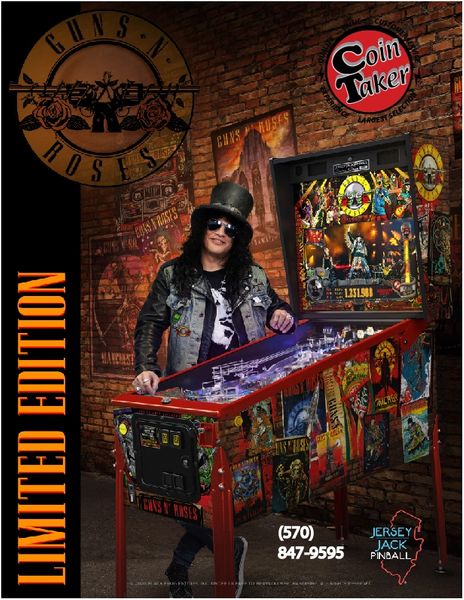 Guns & Roses Limited Edition
GAMES ARE IN STOCK AND READY TO SHIP
SHIPPING CHARGES WILL BE BILL AT TIME FINAL PAYMENT IS DUE
Jersey Jack Pinball Rock -n- Roll Pinball!  
All Models:
21 Full-Length Studio Master Recordings of GNR Favorites
Exclusive Original Pinball Music created and performed by Slash
Exclusive Original Instrumentation and Sound Effect Recordings performed by Slash, Duff McKagan, and Richard Fortus
Game Narration By Duff McKagan and Melissa Reese
Additional Voice Recording by Axl Rose, Slash, Richard Fortus, Frank Ferrer, Dizzy Reed and GnR announcer MC Bob
Live Footage and Concert Screen Animations from the Not In This Lifetime World Tour
27" Backbox Display
Jukebox Attract Mode Option
Selectable Content Settings: Family Friendly (default), Adult-Adds explicit songs, video content, and voice work
120 Watt 2.1 Stereo Sound System
Bluetooth Headphone and WIFI Connectivity

Automatic WIFI updates to your machine – you are alerted when there is an update

Drumstick Ramp: 2 Real Frank Ferrer Thunderchucker Vater Drumsticks
Divertable Ramp(s)
2 Chrome Catwalk Steel Return Ramps
Inner Loop Jump Ramp
Direction-Sensing Spinning Platinum Record Playfield Toy
Sculptures: Slash's Iconic Top Hat, Screaming Axl Rose, Concert Speaker Stack
2 Guitar Pick-shaped RGB Lit Spinners
30 RGB GNR Hexagonal Stage Lighting
1 Exposed Core Playfield Magnet
3 pop bumpers
7" Stage Display Showcasing Additional Game Rules and Animations
Familiar In-Song Performance Assessment Rock-it Meter
New Non-Mechanical Ball Sensors
75+ Mini-insert LEDs for World Tour Map and Music Notes
Unique Guaranteed-Progress Inlane Configuration
COMA Area Outlane Ball Save
Tool-less Moveable/Removeable Magnetic Rule and Pricing Cards
LIMITED EDITION FEATURES:
GNR Tour Poster Cabinet Art Packages
Red Brick Powder Coat
Blood Red Plastic Set
Individually Numbered and Limited to 5000
350+ Individually Controlled RGB LEDs
Gibson Headstock Upper Playfield with 6 Ball Lock
4 Flippers
Individually Controllable RGB LED Hotrail Lighting
Triple-Kinetic Diverter Fender Bass Head Mini Playfield
Triple Path 4-String Bass Ramp Wireform
2 Full Motion Articulating RGB LED Stage Spotlights
High Hat and Cymbal Interactive Drum Kit Pop Bumper Toys
Analog + Bluetooth Headphone Connectivity
Shaker Motor
Invisiglass

Songs in the game

The songs in the game are primarily from the following four albums:

There are 21 songs in the game, and each song has its own rules and all are heavy on risk/reward (more on that below). The game ships with 15 songs enabled – the 6 containing explicit content are disabled by default, and can be unlocked when explicit/adult settings are enabled. The songs in the game include:

Sweet Child O' Mine
Welcome to the Jungle
Paradise City
November Rain
Live and Let Die
Don't Cry
You Could Be Mine
Civil War
COMA
Double Talkin' Jive
Estranged
It's So Easy
Mr. Brownstone
My Michelle
Nightrain
Out Ta Get Me
Rocket Queen
This I Love
Better
Chinese Democracy
Patience (this song is from G N' R Lies, and is the only song that is not on the four albums featured in the game)

Game Design, Direction: Eric Meunier and Slash
Rules Design and Software: Keith Johnson
Software Engineer: Ted Estes
Software: Joe Katz, JT Harkey, Bill Grupp, Duncan Brown
3D Sculptures: Matt Riesterer
Digital Assets: Jean-Paul de Win, Creative Works UK
Art: Dayne Henry Jr., Arian Buhler, Mark Molitor, Jean-Paul de Win, Jesper Ables
Sound: Vikas Deo
Manual: Barry Engler
Mechanical Engineers: Dan Molter, Peter Dorn, James Piekarz, Wally Welch
Electrical Engineer and Support: Tony Tumminaro, Ben Stover

To reach Not In This Lifetime Wizard Mode, you must play the following modes:
Tour Multiball
Appetite for Destruction Album Mode: Thirst for Carnage
Use Your Illusion I Album Mode: Desert Demolition
Use Your Illusion II Album Mode: Tear Down the Wall
Chinese Democracy Album Mode: Shall We Play a Game?
Slash Solo
Playing those modes will light Not In This Lifetime Wizard Mode at the center scoop.