DMD No Glare Film For Stern Pinball Machines - Outer Mounting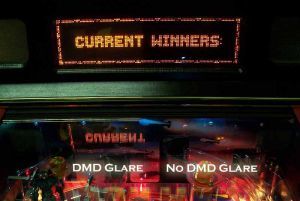 DMD No Glare Film For Stern Pinball Machines - Outer Mounting
No glare polarized DMD film for Stern (and some Sega) machines.
Removes DMD glare/reflection in a very stealth way; almost invisible!  This film lies flat on your screen, no curling!
This film mounts on the OUTSIDE of your DMD display screen (installation takes only seconds).
Picture shows no glare film installed on right half of DMD only to demonstrate the effectiveness of this product.  No glare film comes in a full sheet to cover your entire DMD, of course.
Installation instructions included.