Attack From Mars/Revenge From Mars Flipper Bats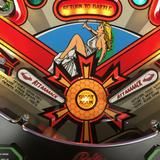 Attack From Mars/Revenge From Mars Flipper Bats
Trick out your flippers with the Attack Flipper Bats! These pinball flipper bat topper mods add a killer finishing touch to your playfield. Made from sturdy enhanced acrylic plastic pieces with heavy duty 3M tape on the back for long lasting play and durability. 
This design looks AWESOME and compliments the Attack from Mars and Revenge from Mars pinball machines!
The "Attack Flipper Bats" is a copyrighted image of ULEKstore who owns usage rights. The flipper bat MOD is strictly an aftermarket MOD and by no means is affiliated with mentioned pinball machine manufacturers.