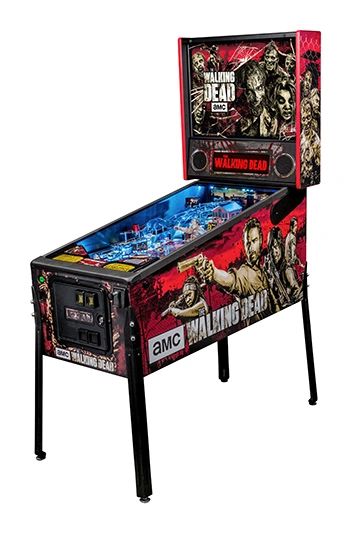 Walking Dead Pro
Contact Melissa for latest specials 570-847-9595
The Walking Dead TV series, about a Zombie apocalypse and
based on the comic books of the same name, is soon to start its 5th season
worldwide. This show continues to break ratings records for the over 120
countries in which it is televised.

This game captures the world of The Walking Dead with brilliant
art and great playfield mechanical toys.


The shots are great, and the
ramps are smooth. Included among the mechanical devices and toys are a
"Cell Block C" with cell doors that are bashed to open, then a Walker bash
head inside, "Well Walker" bash toy, a playfield magnet, 3 bank drop
target, a shot lane returning the ball to the shooter, custom molded Walker
characters, decaled cabinet and speaker panel, and more. We have designed
a new and reliable star rollover switch, always a favorite in past games.
And of course all the playfield lighting is CoinTaker LED's.

The Walking Dead Pro is loaded.

The Walking Dead Limited Edition is even more loaded with features,
including a Crossbow ball firing mechanism, fire button in the lockdown
bar, "Well Walker" guts, a 2nd playfield magnet at the "Well Walker", a
magnetic ramp ball diverter, "Governor's Fish Tank" with illuminated head,
a single bank drop target, spinning targets, traditional playfield supports
and lock down bar, rust powder coated armor etc., unique decal art, and
mirrored backglass. The LE has multicolor GI lighting, and certain inserts
have tri-color control lamp LED's.

October 2014