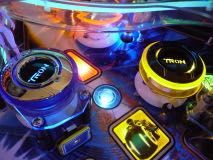 TRON POP BUMPERS
These custom metal pop bumpers mount on laser cut plastic discs.  They are lit by custom leds specifically made for this mod.
The innovative design allows for light to pass through and create the illusion of a Tron disc  It installs easily and requires only a Phillips head 
screw driver.  This mod comes in 2 finishes.  Chrome or black with chrome accents.  First picture shows chrome on left and black on right.
Sets come in either finish with 3 in a set.
Mod by:  Hooked on Pinball