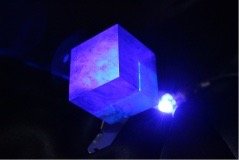 TESSERACT CUBE 2.0V
This is a direct replacement for the factory spinning toy. This is a solid cube that was custom made specifically for this mod.
We have created a movie correct cube that is fully interactive with your game. The blue light can be on constantly or tied in to the one of the "Cosmic" letters. The flasher ties into the flasher located under the spinning deck.
Will work on all model games from Pro to LE.