STAR TREK LASER UPGRADE MOD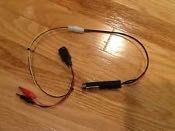 STAR TREK LASER UPGRADE MOD
AN AMAZING UPGRADE TO THE STOCK LASER THAT COMES WITH STERN'S STAR TREK PREMIUM AND LE PINBALL MACHINES.  THE STOCK LASER IS ABOUT 3mW OF POWER MOSTLY ABSORBED BY THE GAME COLORS.  THE UPGRADE DOESN'T LOOK LIKE MUCH IN THE PICTURE, BUT THE RESULTS ARE ASTOUNDING AND REALLY FUN TO SEE.
THE UIT FITS IN THE SAME PLACE AS THE ORIGINAL AND IS PLUG-N-PLAY, NO PERMANENT MODIFICATIONS ARE REQUIRED.
NOTE:  PURCHASE OF THIS DEVICE IS CONSENT THAT YOU ARE AWARE OF LASER SAFETY:  ONCE INSTALLED, THE 100'S OF BEAMS PRODUCED BY THE BEAM SPLITTER ARE ALL LOW ENOUGH IN POWER SO AS NOT TO POSE A SAFETY HAZARD.  DO NOT OPERATE THE LASER OUTSIDE OF THE BEAM SPLITTER (STARFIELD GENERATOR) UNIT IN THE GAME!