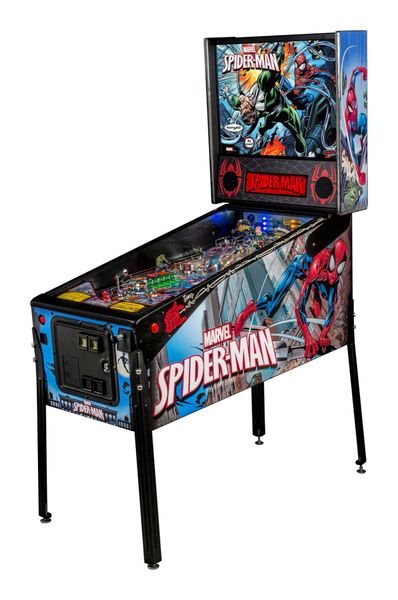 SPIDERMAN VAULT PINBALL
Spider-Man Vault Edition features:
 The same amazing gameplay of the original, with an all new look and feel.
 All new art package, including: cabinet, backglass, decals, and playfield plastics are
designed based on images from the actual Marvel Ultimate Spider-Man comics
library.
 All new custom-molded toys specifically designed and decorated to capture the
Ultimate Spider-Man art style (Doc Ock, Sandman, Venom and Green Goblin).
 All new animation and dot matrix video art designed around the Ultimate Spider-Man
comic art.
 All new custom speech and sound effects for all characters.
 New mode event themes based on the Ultimate Spider-Man Universe.
 Webslinger themed laser-cut side armor in black powdercoat with contrasting color
inserts.
 Two new music tracks plus the original score.
 Numerous improvements to durability based on research of the original game's field
experience, including:
o Steel plastic protectors at the Sandman and in the pop bumper area.
o VUK opening playfield protectors at Dock Ock and the Sandman.
o Stainless steel playfield protector beneath the webslinger in the pops.
o All stainless steel webslinger ball guides.
o Improved ramp guards.
o Optimizations to the design of anti-ball trap plastics and ramp covers.
o Improved wire form ramp mounting details.
o Anti-wear Dock Ock playfield magnet assembly.
o All LED playfield lighting.
The Ultimate Spider-Man is a superhero comic book series published by Marvel Comics
from 2000 to 2009. The series is a modernized re-imagining of Marvel's long-running
Spider-Man comic book franchise as part of its Ultimate Marvel imprint