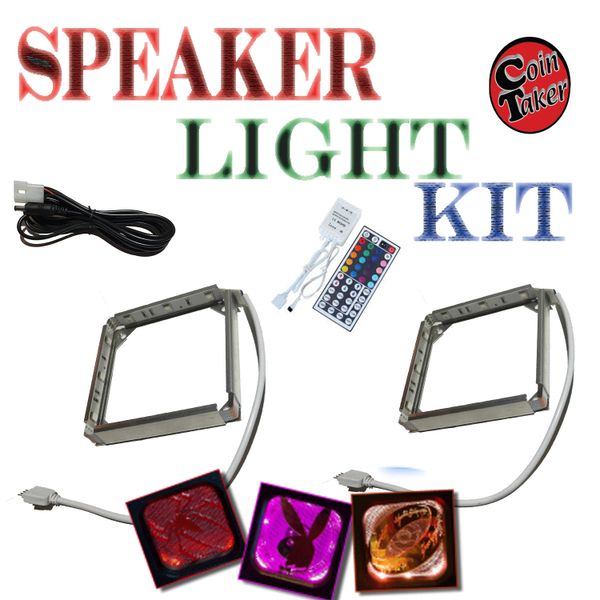 Speaker Light Kit 7
Speaker Light Kit Type 7
Includes
2 Pinball Speaker Light Plates (1 for each speaker) with RGB LED lights and connectors. RGB controller box with 44 key remote. Power cable. Mounting hardware for games with stock or upgraded aftermarket speakers.
Hardware is now included to mount either factory stock speakers and also extended hardware for mounting upgraded aftermarket speakers that have built on spacer rings.
Light Kit suitable for the following Sega / Stern games:
24    
AC/DC (with square speaker holes)
Austin Powers
Avatar
Avengers
Batman: The Dark Knight (Stern)
Big Buck Hunter Pro
CSI
Elvis
Family Guy
Godzilla
Grand Prix (Stern)
Harley-Davidson (Sega / Stern)
High Roller Casino
Indiana Jones (Stern)
Iron Man (Pro)
Lord of the Rings
Lost in Space
Metallica (with square speaker holes)
Monopoly
NASCAR
NBA (Stern)
NFL
Pirates of the Caribbean
Playboy (Stern)
Ripley's Believe It or Not!
RollerCoaster Tycoon
The Rolling Stones (Stern)
Sharkey's Shootout
Shrek
The Simpsons Pinball Party (Stern)
The Sopranos
South Park
Spider-Man (Stern)
Striker Xtreme
Terminator 3: Rise of the Machines
Transformers
TRON
Wheel Of Fortune
World Poker Tour
X-Men