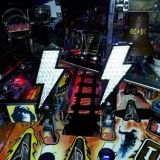 AC/DC LIGHTENING BOLTS
es Generation 4 is here! We have updated the frames removing the front mounting hole and have added another frame option Stainless Steel mirror finish! Red will be back in stock shortly.
​
Remove those non-functioning lightning bolt plastics and install these fully interactive versions! This is how it should have been from the factory. These AC/DC 4th Generation Lightning Bolts are plug-in and play ready. Use all factory connections and truly bring your playfield to life. You will be amazed at the new light show. Each kit comes with three bolts and all connections needed. There is a tutorial video for installation. Colors available: smoke black or red. The red version matches the premium and Luci versions of AC/DC exactly. Please note that the bolts do not come in warm (yellow) lights anymore, though the picture still shows them. The red version comes with either bright white LEDs or blue LEDs. Also shown in pictures and available are the AC/DC Ramp Decals. ​Order yours today!